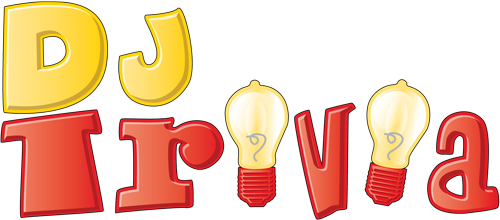 DJ Trivia is a Fun, Live, Interactive Trivia Game involving you, your team, other teams and a Live DJ host!
With DJ Trivia, a live DJ hosts a fun-filled, interactive on-screen trivia game! You and your team play "Live" trivia against other onsite teams whose sole mission is to crush you! Okay, maybe it's nowhere near that intense but it is great fun and great times each and every week.
Bring as many friends as you can to form the ultimate trivia team! Who knows, you may win some prizes while having all this fun! Don't have any friends? Come make some new ones!
DJ Trivia is also available for your private or company events!
*

BAR AND RESTAURANT OWNERS

*
---
BOOST A SLOW NIGHT
DJ Trivia is designed to increase attendance and revenue on nights that would otherwise be slow.
INCREASE YOUR SALES
Enjoy a return customer base that comes out weekly to eat, drink, and have fun in your establishment.
FAMILY FRIENDLY
DJ Trivia is fun for all generations. We encourage a family friendly environment that is welcoming to all.
NATIONALLY RECOGNIZED
DJ Trivia is a proven national brand with years of experience and success.
Waltham DJ, Karaoke & Trivia, Framingham DJ, Karaoke & Trivia, Natick DJ, Karaoke & Trivia, Burlington DJ, Karaoke & Trivia, Woburn DJ, Karaoke & Trivia, Watertown DJ, Karaoke & Trivia, Newton DJ, Karaoke & Trivia, Acton DJ, Karaoke & Trivia, Littleton DJ, Karaoke & Trivia
Proudly serving the following counties: Middlesex, Worcester, Norfolk, Essex, And all of Southern New Hampshire